Milano Design Week 2018 AGC "Soundscape"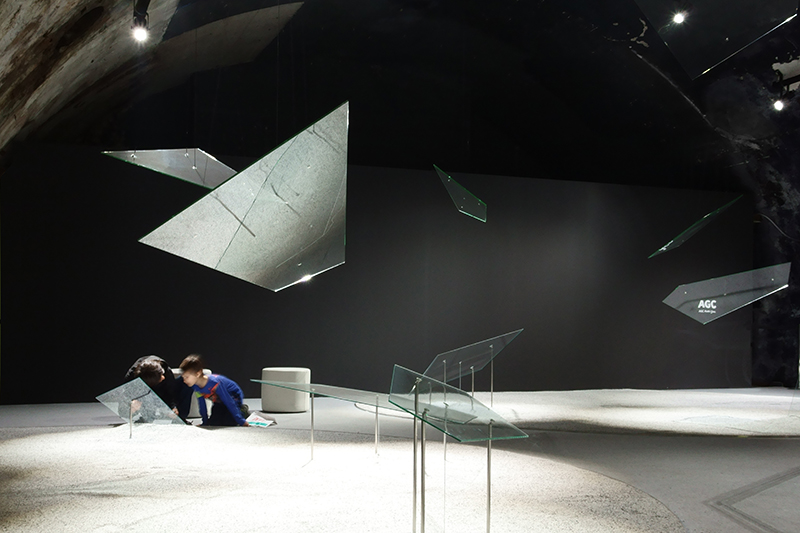 ミラノデザインウィーク2018において発表された、AGCによって開発された、「音を生む」 ガラスのインスタレーション作品です。ミラノ中央駅の古い倉庫でガラスによる新しいサウンドスケープをつくりました。「音を生む」ガラスは特殊な中間層を持つガラスで、振動板としてガラスを使用した時のガラス特有の共振現象を抑え、非常に美しい音を鳴らすことのできる新しいガラスです。
透明なガラスと、音という見えない存在によってデザインされたこの作品は、一枚の大きなガラスの板が、破片となって空中に散らばった一瞬を切り取った、時間が止まったかのような空間です。空間に広がる35枚のガラス1枚1枚の破片に異なる音をマルチサウンドシステムで割り当て、実際に自然の中を歩いた時のような、場所によって聴こえる音や聴こえ方が異なり、人によって体験している世界が違うという多層的な音環境をつくりだしています。例えば高い所で鳥が鳴きながら移動したり、低い位置で波の音が押し寄せるようにやってきたり、音による様々な場所が空間の中に埋め込まれています。
この空間で使用されているのは、すべてフィールド・レコーディングをベースにした鳥の声、川のせせらぎ、波の音などの自然環境音です。水蒸気が水滴になってせせらぎになり、最後は海になるという「水の循環」をテーマにしています。
ガラスのスピーカーも今回のインスタレーションのために特別に設計しました。ガラスから音が鳴っていることを視覚的に表現するために、音源となる振動子(exciter)をガラスから離して設置して、振動を細いワイヤーで伝達し、糸電話のようにガラス板を振動させています。そうすることで、「ガラスが浮いているだけで音がなっている」というスピーカーとしての究極の姿をつくりあげています。
私たちの身の回りにある様々なガラスから音がやってきて、目を閉じて、耳で外の風景を「見る」窓としての新しいガラスの未来の姿を提示しました。
Soundscapes: Spatial Design Incorporating the Invisible Element of Sound
This installation makes use of sound-generating glass, a technology developed by AGC Asahi Glass and previously presented at Milan Design Week 2018. During this event in Milan, Italy, a novel "soundscape" was created inside an old warehouse at Milano Centrale Station.
Sound-generating glass incorporates a brand-new design making use of a special intermediary layer in between the glass layers. When using this material as a transducer to generate sound—much like a speaker's diaphragm—the innovative design mitigates the inherent resonance characteristics of glass and produces clear, beautiful sounds.
Designed using transparent glass and the intangible nature of sound, this exhibit captures a moment in time where a single sheet of glass has shattered into a number of shards dispersed throughout the air, making visitors feel as though time is standing still. Each of the 35 sheets of glass scattered throughout this space emits a different nature sound, all of which are transmitted through a multi-source audio setup.
Just like when taking a real nature walk, this exhibit provides a multi-layered soundscape in which the sounds can be sensed differently depending on the location at which they are being heard, in addition to providing each visitor with a distinctly different scene to experience. One visitor, for example, may hear birdsong from high-up locations that moves around intermittently, while another hears the sounds of crashing waves coming from somewhere below, all of which combine to create scattered, invisible "chambers" of sound within the overall space. Sound sources for the nature sounds used in this space are all taken from field recordings, and the overarching exhibit theme is the "water cycle," wherein water vapor turns into water droplets, which then flow as water through streams until they reach the ocean.
A special design setup has been adopted for this installation: In order to convey visually that sound is, in fact, being emitted from the glass itself, the exciter (the sound source) for each unit has been installed at a location separate from the glass, with vibrations being conveyed via fine wire to the glass material (similar to how a tin can telephone connected by string or wire operates). The result is an impressive speaker setup in which sound seems to be emitted by shards of glass simply suspended in the air.
By closing one's eyes and taking in the various sounds conveyed through the glass medium, it is possible to "see" external landscapes and imagery through auditory sensations alone. This new glass technology serves as a window into the world of soundscapes.
photo by Akihide Mishima & Mandai Architects
related link:
https://www.japandesign.ne.jp/interview/agc-soundscape/
Milano Design Week 2018 AGC "Soundscape"
Location :Milano, Italy
Principle use : exhibition
Design : Motosuke Mandai / Masashi Itaya (Mandai Architects)
Music and sound composition : Takashi Tsuda
Sound space design : Yuji Tsutsumida
Graphic design : Ken Okamoto (Ken Okamoto Design Office Inc.)
Project management : ADK Arts
Project coordination : IXI
Construction : Xilografia Nuova
Material : sound-generation glass
Completion data : 2018.4.16